Confidentiality protocol. Act in total discretion – keep your confidential projects confidential.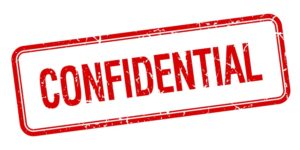 You or your company wants to place a bid in a public tender?
You don't want your competitors to know what you will be offering and at which price So you will ask for a high confidentiality around this, isn't it?
But how can you ensure the confidentiality?
How can you be sure that the information won't filter out?
Are you ready for this challenge? Is every person in the team trustworthy enough ?
It's not at the time you start building your offer that you need to spend time and search how you can be discreet enough. You need to already have a confidentiality plan that you can action immediately.
We can help you to prepare such a plan. Contact Us for more information
Your company is preparing a public tender to acquire new software, new vehicles, or to get services from an external company?
Certainly you don't want the details of the tender going public before the official date?
You don't want the whole process to be cancelled or slightly delayed due to an information leakage?
A complain about irregularity in the process or about unfair competition would endanger the project or at least his time frame..
You can be ready to action a confidentiality plan Before starting your project. You can have all in place to ensure only trustworthy people work on the subject and that your information stays in your control.
Contact Us for more information
As a Lawyer you will take action on a very sensitive file?
You don't want the other parties to know in advance your strategy ?
You don't want them or the press to know beforehand what's your defense strategy. The parties you are defending needs a very high level of confidentiality ?
Are you sure no unauthorized can read your mail exchange with your customer or your team members ? No ones can listen your daily briefing with your fellow lawyers ?
We can help you preparing a specific and easily actionable confidentiality plan.
You or your company will start a new project? A new product?
Sure you want to be the first on the market, and you don't want to see your competitors on the market before you, with your idea and technology.
Have you already prepared and tested a confidentiality plan ? Can you start tomorrow with enough confidence on the confidentiality ?
At Emmera we have gained years of experience in fighting data leakage, and ensuring confidentiality. Not only in the Cyber Space, but also in the real world.
Contact Us for more information
How do we work ?
We will check your profession with you, and examine the different case were you would need a higher degree of confidentiality.
Following this we make a clear assessment on your actual situation and existing procedures/habits. The depth of this check will be driven by the need of your company.
We will be base it on a sound risk assessment.
Depending on your need we will prepare your confidentiality plan(s), adapted to your situation.
This will not only be based on your IT, but on all your way of working… We check your messaging system, physical access to you facilities, background of the team member to involve, ..
We even go, if needed, to check your offices for hidden spy devices or the way you evacuate or handle your waste.
Thanks to a multidisciplinary team of versatile and experienced experts, Emmera will handle the question as a whole. You will get all aspects of confidentiality covered by 1 company.
We propose only pragmatic solutions. You can be assured that in most case, good processes and reliable people helps more than any product or hardware. And "Secret Service" level is not always mandatory.
Our aim is really to make a customised plan, you can activate only when and where needed, for a limited period.
Don't hesitate : Contact Us for a confidential discussion