Why perform a pre-employement screening (PES)?
To protect your business.
The pre-employement screening helps you to create a safe workplace.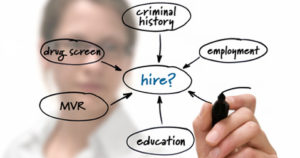 Businesses recognize the value of hiring the good person at the good job, they also recognize the heavy cost associated to a bad hiring.
Is the applicant in line with your company values?
You certainly want to hire employee that are trustworthy and honest.
Depending on the position he will occupy in the company, your needs on checks will vary.  For some sensitive position you may want a high level of integrity :
Handling of confidential information,
processing of private and perhaps sensitive private data,
money handling,
exercising a high level of authority,
administering your IT,
…
Moreover,  after you have concluded that the candidate fits the vacancy, you can check his/her integrity and trustworthy, before hiring.  This is a very efficient way of reducing/avoiding cost of a bad hiring.
About pre-employment screening
What can be your objective to perform background checks against job applicant ?
You want to be able to identify and refuse candidates  :
Who are in financial instability
Who exaggerate or distort their qualifications or responsibilities
Hiding or transforming part of their (professional) life
Giving inexact reasons for leaving their former employer
Who could have conflict of interest
Having a social Media life in total contradiction with your company's values
…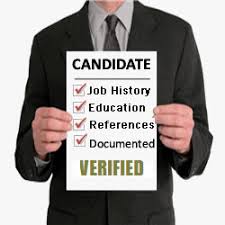 How Emmera can help you ?
To help you detect and stop inappropriate candidate, control your risks and avoid the cost of a bad hiring, Emmera propose different type of pre-employment screening (PES) and integrity check.  We base our checks on details given by the applicant and on information publicly available (OSINT)
Contact-Us now for more information
Risk Based
First of all we will help you to make a risk analysis if you haven't done one yet.
We need to evaluate which position represent which type of risk to adapt the control level you need to apply when hiring  candidates.  This is based on a high level risk assessment.  We can do this for all positions, or help you doing your assessment by your own.
A pre-employment screening cannot prevent irregularities, fraud or other criminal behavior.  It only helps you to mitigate the risk and be more careful on who you hire.
Getting permission
The candidate will be informed about the checks, and will give his permission for this.
Collecting information
One  needs to collect only information relevant to the nature and requirements of the job. When the applicant agreed with the check principle and details, we will collect all relevant and needed information via a questionnaire.  All information's will be handled with the highest confidentiality standards.
Analyse
Depending on the integrity-sensitiveness of the job, we will analyse and control the information received from the candidate.  Further information gathering can be done by our experts.  Using OSINT techniques (Open Sources INTelligence) to collect publicly available information our specialist can complete the analysis and the portrait of the candidate.  We will only contact people mentioned by the applicant, when he/she gave the permission.
Reporting
When the analyse is complete, we establish a complete report, solely based on fact and evidence, based on the search criteria.  The report will come as a Risk assessment report, showing the fact founds during the screening, with the evidences.
Data Rentention
After the screening, we will securely erase all collected data.
Contact-Us now for more information